Se é um investidor interessado na onda da reabilitação urbana que existe no centro de Lisboa, mas não tem disponibilidade nem capacidade de gerir um projeto de empreendimento desde a seleção do prédio a renovar, a definição do projeto de arquitetura, a submissão do PIP na Camara Municipal, a supervisão das obras até à comercialização das frações (apartamentos, ojas…), podemos propor-lhe uma parceria na qual um promotor português reputado e bem sucedido pode cuidar da gestão do projeto de A a Z.
A parceria que temos vindo a desenvolver com um Promotor português muito bem sucedido baseia-se no seguinte:
O Promotor investe 5 a 10 % no projeto junto com outros investidores
Ele recebe uma comissão fixa de 5% para gerir o projeto de A a Z
Ele tem um forte incentivo associado ao TIR (Taxa Interna de Retorno) dos investidores: até 30% das receitas do projeto se TIR superior a 30%.
Exemplos of projetos desenvolvidos com este promotor:
-He gets a fixed management fee of 5% to supervise the project from A to Z
-He has a strong incentive linked to investors IRR (Internal Rate of Return) : up to 30% of project gains if IRR superior to 30%
Examples of projects already launched with this developer: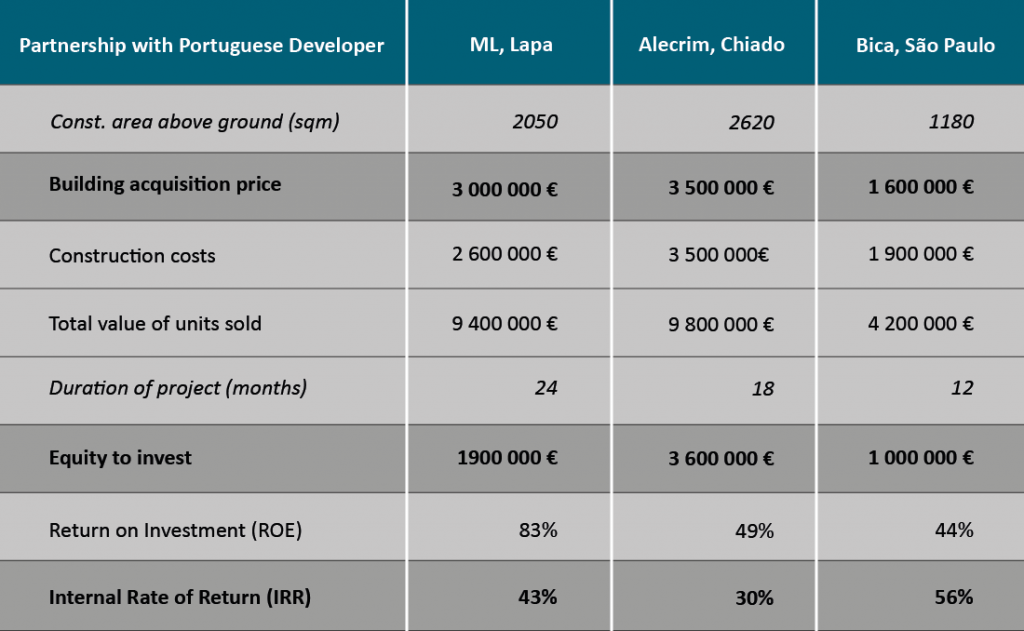 O ticket de investimento por investidor individual varia por norma entre os 200K€ e os 2000K€. Mas o ticket pode ser superior como único investidor ou em projetos maior.
Apresentamos apenas projetos com um TIR acima dos 20%.